I have four inches of snow!!
And that's inside the house, stuck to the dogs!
Kidding!
There is about four inches outside, and inside there are thousands of little snowballs, carried in by the dogs, attached to their legs! I've thrown down some old towels, a comforter on the couch, and I'm just letting them have a ball!
******* CLICK ON THIS PICTURE TO SEE THE WHOLE ALBUM!! ********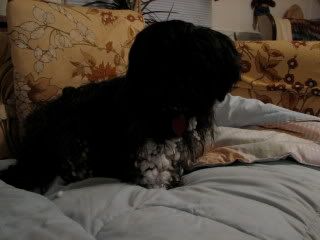 The dogs absolutely love it! Well, Joey still isn't certain that he likes it enough to stay out a long time, but even he is fascinated. Sam, however, seems to be unable to stay out of it! It began early this morning when I woke a little before 6:00, rolled over and noticed that Sam was missing from my bed. I knew he had probably gone outside and was almost back to sleep, but it occurred to me that he wasn't back.
I got up to check on him, and discovered the snow. And Sam was totally cavorting in it! He saw me at the window in the back door and ran inside, completely covered snow! He had a complete covering of snow flakes on his back and head, as it was coming down hard. his legs and belly were a mass of snowballs, most of them about 1.5 inches in diameter. I got the hair dryer and a towel and began to thaw him out. He was shivering like crazy and loved the warm air. however, since then, I've given up, because he won't stay in! And he won't slow down for me to take a picture of him! But you can see a mild dose of "snowball fever" on Jazi in the pictures above.
People tend to think that since they are small, they are not likely to enjoy snow.
Au contraire, mes amies!!
These dogs came from China. They have heavy coats to protect them from the copious amounts of snow!
And Sammy is proving it, big time!
Here are a couple short videos of the fun!
Oh, Sam stood still .... well, make that
almost
.... enough for a photo a moment ago. And now? He's outside again!! It's gonna be a long, wet day!
Look at that mess!!! LOL!