Interesting .....
CENTRISTS espouse a "middle ground" regarding government control of the economy and personal behavior. Depending on the issue, they sometimes favor government intervention and sometimes support individual freedom of choice.
Centrists pride themselves on keeping an open mind,
tend to oppose "political extremes," and emphasize what
they describe as "practical" solutions to problems.
This is new to me. Haven't heard this term before, however, the description sounds pretty accurate. I've always said I'm moderate with liberal leanings. There you have it!
You can see where you are in just a couple minutes, at most:
http://www.theadvocates.org/quizp/index.html
~ ~ ~ ~
Here's another, courtesy of
Nick
.
My Political Views
I am a center-left moderate social libertarian
Left: 1.94, Libertarian: 2.05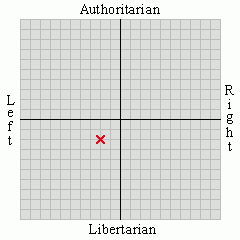 Political Spectrum Quiz


.